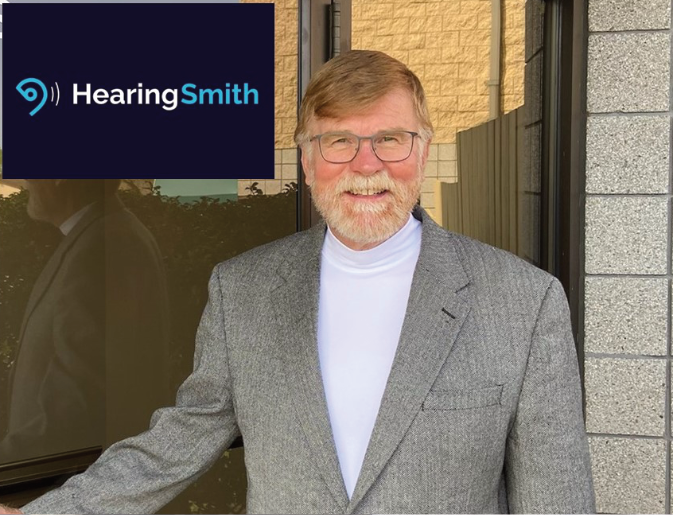 State College resident, Boyd Smith, is announcing the opening of his new hearing aid clinic in Suite 6 at the Ferguson Square 2790 west College Avenue here in State College. Boyd's name is very well known to the hearing impaired patients of our region having served for almost nine years as a Pennsylvania licensed and National Board Certified dispenser in the hearing instrument sciences in State College, Mill Hall, and Huntington. Boyd was raised in the Williamsport area and is a 1985 graduate of Lycoming College with majors in Political science and Business Administration. Before moving into the hearing aid industry, Boyd worked for a company that developed noise canceling headphones with his special focus on industrial hearing protection. Boyd stepped out of a hearing aid office when his wife contracted Covid with debilitating and lingering side effects. Recently Boyd said, " I am thankful and thrilled to be
opening my own hearing aid clinic as the majority partner with Jeff Bayliff from Lock Haven.
Mr. Bayliff owns the Hear the Birds Hearing aid Center at 306 North Grove Street in Lock Haven and in eleven years has become one of the busiest clinics in Central Pennsylvania. When asked about this expansion, he said "I have been studying a second office for a number of years and have been looking for just the right professional to run it. I have known Boyd Smith for many years and it was a perfect fit, not to just hire him as an employee, but to enter into this partnership. I will retain ownership of my office in Lock Haven and keep my daily schedule here. Boyd will be the majority owner in State College.
Boyd is naming his clinic "HearingSmith". A marketing friend suggested the name to visualize crafting, even forging better hearing for the patients. While the hearing aids are manufactured by top companies, Boyd will use his testing, fitting, adjusting, and educational expertise to customize better hearing foreach patient. With Boyd's last name "Smith" it was an obvious and automatic fit.
When asked about his level of excitement for this new venture Boyd said, "I am thrilled to be able to own my business and provide customer service in a context where I am totally responsible. I look forward to having a State College office that uses the exact business model Jeff Bayliff has proved worked in Lock Haven! We will offer top technology hearing aids for nearly half the average regional cost. Jeff has consistently sold only from the top five companies listed in Consumer's Report magazine with 90% of his sales being the number one product ranked by Consumer Reports using a 17,000to20,000 patient survey pool to make their recommendations." When Bayliff was asked how he could survive selling at such discount he said, "The answer is simple, take less profit and help more people!"
Boyd noted a number of other business practices that he will bring from the Lock Haven model. "There will be no charge for testing and consultation. We will help anyone who walk through the door even if they bought elsewhere, even veterans who got their aids from the Veterans Administration. Jeff has proved, "help every one, make friends and eventually you sell them or their relatives and friends new hearing aids." The business model is enhanced with life time serve at no charge, 24 month interest free financing, and a 100% refund promise if not satisfied. There will never be a charge to come see me at HearingSmith."
Boyd Smith is scheduling appointments now at 814 780-2103. HearingSmith hours are by appointment only and he is located at Ferguson Square 2790 West College Avenue. The lover level does not mean steps down, just that it is at the rear of the plaza with a handicapped accessible entrance just feet from Boyd's new office.
Lastly Boyd said, "I am honored to begin this business journey. Unlike many hearing clinics who seek to test as many people as possible I seek to help those who are ready to hear better and to save thousands of dollars making the decision to get hearing aids. I am the owner, the only employee, the janitor, and the one who will answer your phone call. I would be truly humbled and honored to be entrusted with your hearing healthcare needs. Please call me today at 814-780-2103. If you are in Clinton county or closer to Lock Haven, call Jeff Bayliff at 570-748-5444 or visit www.hearthebirds.com